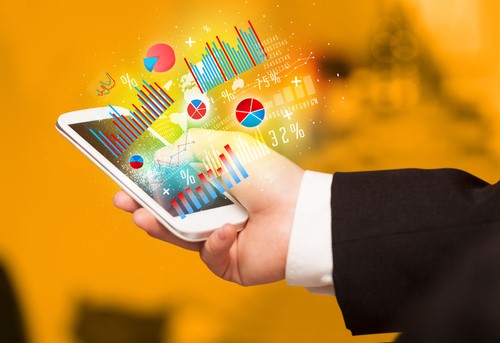 Salesforce Automation Software (SFA)/Field Force Automation Software (FFA) helps sales teams and managers work more efficiently through technology. Salespeople spend most of their time doing what they do best. Wasted time in other activities is diluted in terms of sales and effectiveness. Sales Force Automation (SFA) software automates business operations such as inventory management, sales processing, and customer interaction tracking, and analyzes sales forecasts and performance.
SFA uses desktop and mobile devices/tablets to collect field data about sales or services from field workers. Integrated data generated from multiple locations can be accessed in real time from a single location over the Internet. With SFA, you can automate sales operations such as order processing, contact management, information sharing, inventory monitoring and control, order tracking, customer management, sales forecast analysis, and employee performance evaluation.
Companies such as fast-moving consumer goods, catering, industrial materials, and consumer durables have important sales resources in this area, so software must be used for sales personnel and inventory management.
Organizational challenges
Organizations where field salespeople interact with resellers, distributors, and wholesalers face many challenges in managing people and understanding sales and inventory throughout the supply chain. Some challenges are:
There is no secondary sales real-time data at the end of management
Manual order processing increases paperwork and delays processing.
It is difficult to monitor sales force performance at all levels.
Access and timeliness of sales staff at the point of sale
Outlets monitor brand awareness and effectively assess the market competition.
Business loss due to insufficient delivery, communication gaps and delays, and missing records
Lack of standardization and inconsistency in sales, discounts, and planning data
Wasting time selling in backstage/reporting activities
Field Force Automation Software solutions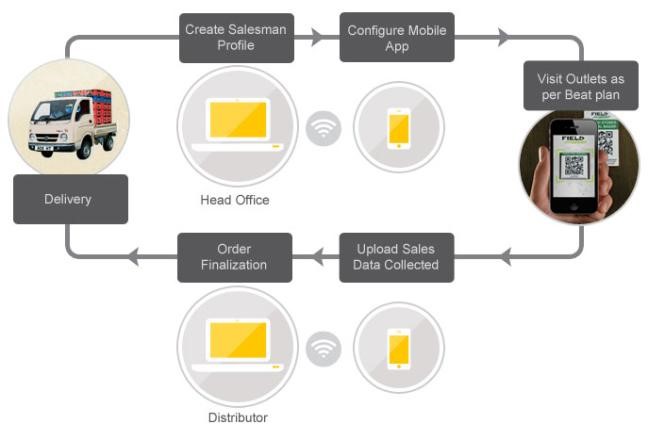 SFA typically includes on-site automated sales management solutions. It is a cloud-based application that uses mobile/tablet-based applications to capture a variety of live data that is typically associated with sales or services on-site. Integrated data generated from multiple locations can be accessed in real time from a single location over the Internet.
Field & Sales Force automation software is designed for end users. With the mobile app, field salespeople can do the following:
Non-retail attendance capture
SKU management
Single screen order booking
Survey and census
Digital catalog
With cloud-based Field Force automation software and mobile applications, organizations can access the dashboard, a one-stop web-based portal for all administrators. Maps integrate real-time tracking, attendance data, order and product management functions, allowing administrators to manage teams on site. Provide important information to administrators and management in real time, including:
Real-time attendance and weekly/monthly analysis.
Daily sales per employee/brand/SKU/products.
The time spent on each location.
Track top and bottom retailers.
The impact of sales trends and sales incentives on sales.
Reports and dashboards that allow administrators to understand their work
Some examples of features provided by the SFA software:
1. Arrange digital orders through the mobile app
The software eliminates the tedious task of maintaining invoices and other paperwork by enabling sales representatives to place orders through the mobile app, fully automating the sales and distribution cycle. It provides a seamless transition between multiple product categories. Even if you have thousands of SKUs, the software makes it easy to book. Once the reservation is complete, you can check the order before final confirmation.
2. Smart sales outlets and targets
Field Force automation software enables managers to provide historical data for more structured and intelligent sales. Based on these historical data, the software is currently targeting products that may be sold at the current point of sale. The software improves performance without getting managers tired.
3. Online catalog
With Field Force Automation software, you can focus on your products and let your managers sell them online, rather than words. Directory-based order bookings make the process very smooth. There are hundreds of products displayed in the online catalog. This eliminates the need to carry large numbers of samples and printed catalogs. Reprint the changed directory in the Save SKU List.
4. Track sales staff
Maintaining a large sales force is very important to your business, but it can be difficult to manage. Field Force automation software verifies sales manager access to authorized stores, allowing administrators to view progress, streamline tasks and live on maps. We also provide alerts when an official does not visit a designated location or visit a designated store. What you can see in the reports and dashboard:
1. On-site attendance
GPS location capture – access verification
View real-time moves in a map with sequences
Bit/path planning
Bit coverage/execution rate
Capture non-retail activities – start, visit warehouse/dealers, meet, etc.
Activity timestamp
2. Call Management and Reporting
Export-wise sales order booking
Socket / Product Search Options
Complete the main SKU list with 4 steps to classify
Distributor inventory capture
Call Preparation – Export history of the last 5 visit details
Grouping feature makes it easy to book
View or modify order options
Offline sales order booking process
SKU management
Create a new retail business
Planning information
Discount application form
Payment collection
Retail inventory capture
This app allows on-site officials to book orders on the go. Planned orders are automatically synchronized with the server and management can view them in real time. If for some reason there is no internet connection, the order will be stored in the application without disrupting the work of the field personnel and automatically syncing when the internet connection is restored.
5. Inventory capture
Field Force Automation software enables field managers to access the inventory available to distributors. This allows the administrator to track product movements and plan production accordingly. It also provides the latest information on the company's final shipment.
6. On-demand investigation
Do you want to know how competitors collect information from point of sale, such as brand awareness? Add a quick survey. You can also collect consumer feedback or capture live images. The available functions are as follows.
Dynamic / Customizable – Survey
Add a new retailer to an existing retailer and provide full details full name/address/contact/no.
Know the existence of competitors
Collect end-user opinions at the exhibition/sample at the outlet
Display hundreds of responses in real time.
Information collection such as POS, brand awareness, competitor presence, feedback, etc.
Capture and upload scene images.
Easy to create questionnaire forms for field salespeople
7. Travel expenses management and tracking
SFA also allows on-site officials to submit detailed information on travel expenses – DA / LC / other fees. These details are provided to the administrator through various reports. The advantages of this module are:
TA / DA is automatically submitted on site.
Invoices can be uploaded from the device – graded wise TA / DA approved
Reduce settlement time
Company savings. Improve cash flow
Easily share with your account team in an easy-to-download format.
8. Report
The SFA application can provide a variety of reports, including:
Sell brand wise / SKU wise / beat wise / export wise
New export report
Zero point of sale report
DSR – Daily Sales Report
Delivery report
Daily summary report
Related Expenditure Report – (TA / DA)
Distributor Inventory Report
Detailed sales report for a period of time
Retail inventory report
Payment collection report
Export wise payment collection report
Return/replacement report
The SFA dashboard is a one-stop web-based portal that meets all administrator requirements. Integrated real-time maps, attendance data, order booking data and product management capabilities allow administrators to manage teams on the go. By default, the dashboard can be divided into the following sections:
A. Attendance
An overview of the progress of the field officials. Attendance data from various indexes, such as call history, time spent on the site, time per call, execution productivity, etc., can be downloaded and viewed in Excel format. SFA uses a variety of location tracking technologies, such as Geo Fencing and Cell Triangulation, to determine the progress of the team's field officers. Administrators can view the exact location of Field Executives directly on the laptop screen.
B. Order booking
Outlet offers instructions for SKU Smart Order Booking. People can see progress. In addition to the current date, we will provide more details by selecting executives and time periods.
C. Survey
Administrators can create a variety of surveys to indirectly benefit the entire sale, including competitor SKU mapping, product reviews, and consumer reviews. You can also view a general view of the responses submitted by field officials.
D. Employee and product management
By default, administrators can create and manage employees and products. What administrators can do includes Assign product categories to employees, upload product images to get catalogs, etc.
9. Dashboard
The dashboard provides real-time information to the HO manager/manager.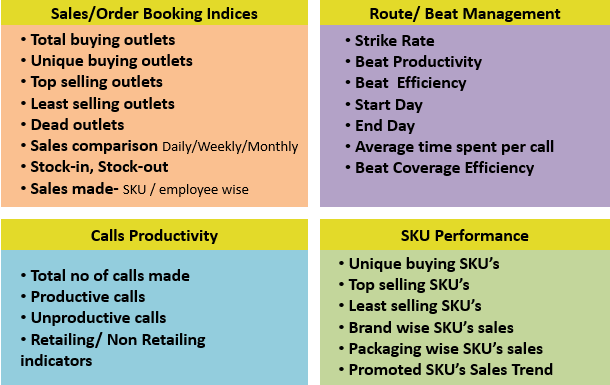 If you are looking for Sales / Field Force Automation software that offers all of the above benefits, SalesTrendz can help. An application that is ready to be installed, easy to maintain, and usable in many locations.