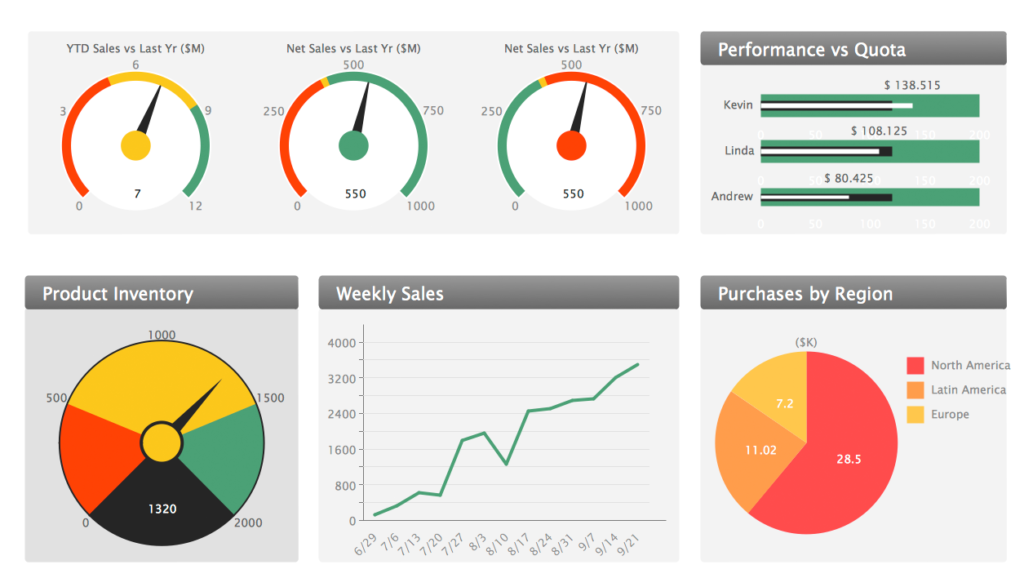 The sales leaders are very busy. The ability to simplify and accelerate critical insights in the age of information overload is becoming increasingly important. The Sales Management Dashboard is the requirement for business leaders to monitor high performance over time. However, dashboards can take action at multiple levels, especially during the sales process, by filtering data vulnerabilities and providing a deep view of the business.
Knowing where to start can be difficult. Building dashboards require a vision and clearly defined goals. Write down your vision and draw its appearance. You should consider the following important information:
Use of the dashboard
Who needs to view the report?
How often can I see it?
What does it look like?
How much data is included?
Time period
The type of chart to use
Below is an example of a dashboard that a sales manager uses to understand all aspects of the business.
1. Lead Funnel dashboard
This dashboard shows how sales and marketing work. By creating a single dashboard for sales and marketing, both departments can make data-driven decisions.
For example, if you choose to track conversion rates by a team, you can determine the strengths and weaknesses of the sales process. Will marketing generate potential customers, but potential customers will not? Is there a problem with your content? Or does your sales representative fail to comply with a service level agreement (SLA) to determine the response time of potential customers?
Ultimately, the goal is to identify areas where sales and marketing can consume the most time and resources. If your sales do not pass through all potential customers, it may mean that your marketing needs to strengthen or limit the filters. If all potential customers can work quickly, marketing may require more channels or expand your workload.
Key focus: better alignment with marketing; identify trends and course corrections (agility); accountability; ensure pipeline coverage
Main reports: source, net leadership, and public leadership, pipeline (opportunity), conversion rate, leadership participation
Distribution: sales management, marketing
2. Forecast dashboard
All companies can use the Predictive Accuracy Dashboard (usually considered a "management tool" for listed companies) to guide, reward and identify defects in the sales process. Did the fourth quarter perform well? Or do you need to get more potential customers from marketing? At what stage did you lose the audience? What kind of people are not closed?
Key focus: business confidence, quota realization, management visibility, financial visibility
Main reports: predictors, team predictors, step predictors, region predictors
Distribution: sales management, management, finance
3. Sales leader dashboard
Awareness is the driving force, and the leaderboard is a way to develop sales performance. This can lead to a healthy competitive spirit, provide opportunities for mentoring, and hold salespeople accountable for their sales activities.
Main focus: sales motivation, management, transparency
Main report: income, opportunity, number of presentations, new opportunities to end with opportunity
Distribution: All sales, executives, marketing
4. Match and win/loss dashboard
The old dashboard focuses on showing how your team responds to quotas. However, dashboards that track competition and win/loss reveal areas that may require a focus on coaching or intervention. You can trigger deeper qualitative feedback from the salesperson about why the sales representative lost the deal or how to target the competitor.
Sales teams who understand these transactions can provide feedback to help them provide resources to improve or change product and marketing teams.
Main focus: understanding threats, optimal monitoring
Main report: loss of win/loss, the presence of competitors, no competitors, competitive prices
Deployment: All contacts, products, marketing, sales managers
5. KPI and sales activity dashboard
Use this dashboard to drive disciplinary action by salespeople. Salesforce considers some of the secret sources of sales pipeline management.
View transactions, sales representatives, active sales representatives, sales representatives, and other accountability metrics that can be used to enhance the rigidity of the sales process.
Main focus: employee behavior, CRM adoption
Main report: Salesperson's activities (telephone, presentation, visit), expired opportunities, days not logged in to CRM
Distribution: All sales
6. Execute daily view dashboard
Time as a sales leader is valuable. By executing dashboards, you can showcase executives who can manage their business at any time by reducing the time it takes to collect data. We will no longer describe the results and create a deck. You can now spend time or direct sales staff on site. Demonstrate your return on investment (ROI) and use this dashboard to ask about the budget or employee growth.
Main focus: fully transparent, executive communication
Main report: all the benefits – potential customers, sales, competition, forecasting, product inventory levels, account settlement status, etc.
Deployment: Executives
With this dashboard, you can focus on protecting potential customers and completing transactions.